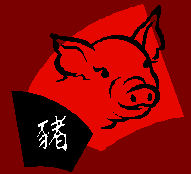 Happy Year of the Boar!
In his life, the loyal and thoughtful boar will make lasting and beneficial friendships. He enjoys gatherings of all kinds, giving parties and hosting fetes, joining clubs and all kinds of associations. A quiet organizer who hates arguments and bickering, he is capable of bringing people of all sides together. His credibility and sincerity are his best assets.
We boars must live up to our reputation! As we ring in 2007, we also celebrate the thirtieth year since graduating from Kaimuki High School. Thanks to those who responded to our recent flyer and signed up to attend our reunion. Nearly 50 classmates and their guests will be in Las Vegas to party hearty and relive those happy days!
If you did not sign up for the reunion but are still interested in attending, you're in luck! The reunion committee has extended the deadline to April 20, 2007. Get your friends on the line and tell 'em, "c'mon, let's go!" Fill out the reunion form, send it in, then book your flight and hotel as soon as possible!
Tournament of Kings at the Excalibur
Invading armies, dancing maidens, jousting and fireworks! Join your spirited classmates for a rousing time as we all sit together and cheer for our king while eating with our hands!
Date: Friday, October 5, 2007
Departure Transportation: Leaves Mainstreet Hotel at 2:00 pm
Return Transportation: Leaves Excalibur at 10:00 pm
Dinner show (no transportation) meeting time: 5:00 pm in the Excalibur Hotel lobby
Cost of dinner show without transportation: $53.29
Cost of dinner show with transportation: $61.00
Transportation leaves early and returns late so we can enjoy some time on the Las Vegas Strip!
Class T-Shirts
Remember the bright green class t-shirt we wore our senior year? There's a photo of it in our senior yearbook. The design has been professionally updated and will be printed on black or white t-shirts as a commemoration for our reunion! Women's t-shirts are available in Hanes Her Way 100% pre-shrunk cotton and Men's t-shirts will be Hanes Beefy T's 100% cotton.
Tournament and T-shirts, Get 'Em Here!
If you would like to order a groovy t-shirt and/or attend the Tournament of Kings dinner show at the Excalibur Hotel, fill out this form and send it in!
Photos, Please!
For our banquet in Las Vegas, we will be creating a slideshow of past and present snapshots. We need your photos! Send us photos of yourself including those from small kid time and today at work or play. Send digital photos to kaimuki77@hotmail.com. Photographs on paper may be sent to Nancy Yoshimoto (write to the kaimuki77@hotmail.com email for her address). Please write your name on the back of each of your photos so that they can be returned to you.
KHS '77 Slot Tournament
We will be holding a private slot tournament for our class on Sunday, October 7, 2007. Details will follow at the reunion banquet. Plan on entering for an exciting time, another chance to socialize with your dear classmates and to win their money!