It's not a big surprise that Jocelyn is a nurse today. Ever since small kid time, she was the one with the compassionate heart and gentle soul. But did you know that Jos is also a very talented artist? Visit her website and enjoy the beauty of her work!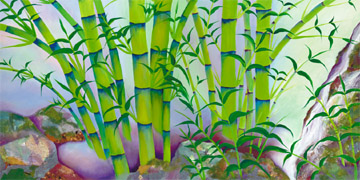 After graduating from Kaimuki High School, Jocelyn went to KCC then UH Manoa and received a Bachelors of Science in Nursing in 1982. She married a 1976 Kaimuki alumni who continues to make her laugh till this day. Fly Hawaiian Airlines interisland and you might have him as your pilot. Jocelyn and her husband have been married 24 years and have 3 sons who are all in college.
For the past 20 years, Jocelyn worked for The Queens Medical Center as a registered nurse caring for medical and cancer patients. In 2001, Jocelyn decided to pursue an art and watercolor painting interest. Most of her paintings are of landscapes, flowers and botanical subjects. Living in Kaneohe has been an inspiration for her art. She now has artwork in many local galleries around Oahu and recently built an art studio. The artwork has turned into a little business that she manages to do along with nursing for Castle Home Care.