Archive for the 'Flashback' Category
Thursday, August 24th, 2006
Growing up in Kapahulu was a kid's dream. Hanging out at Paki Park, slush floats at Burgerland, the waves at Waikiki Beach, and good friends on every block. It's no wonder that no matter how far they roam, the kids from Waikiki Elementary School will always have an enduring connection with the little town at the foot of Diamond Head.
At KHS's 25th reunion, a nice showing of Waikiki El. classmates attended and got reconnected. C'mon Waikiki alumni, be a part of the 30th year reunion. It'll be like coming home.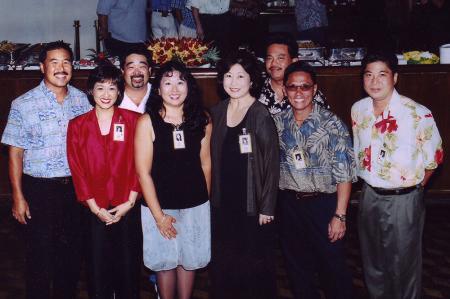 From left to right:
Richard (math is so easy) Hiraki, Joyce (I have to go to Japanese school) Mukai, Kurt (Diamond Head is pounding, wax up the board!) Kawaguchi, Iris (rock 'n roll drummer) Shimizu, Wendy (when is it Spanish rice day?) Omonaka, Ermie (I dig being a JPO – when I grow up, I'm gonna be a cop) Barroga, Derek (will I achieve anything in life?!) Ho, and Grant (nobody lives closer to the zoo than me) Okimura.

These folks like to party so much, they had a 10 year reunion after graduating from the sixth grade!