It was an intimate gathering of 50 classmates and their guests who came from the different islands of Hawaii as well as California, Arizona, Washington, and Nevada. Some had been friends since small kid time, others never crossed paths until reunion night. In October 2007, Kaimuki's class of 1977 came together again in dazzling Las Vegas for its 30th reunion.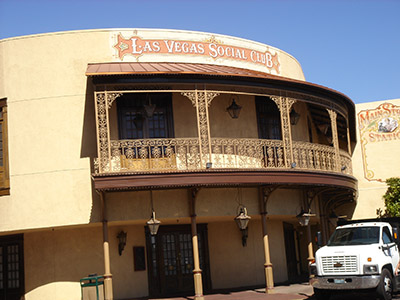 Party Central: Las Vegas Social Club, Mainstreet Hotel
Early in the week, Bulldogs arrived in Las Vegas with great anticipation. On Thursday, classmates gathered at the Social Club to help assemble favors, door prizes and name tags. Thanks to a fund-raiser, reunion reserve, and many monetary donations made by classmates, each attendee received a door prize that contained at least $40. Mahalo to the classmates who gave so generously to the occasion!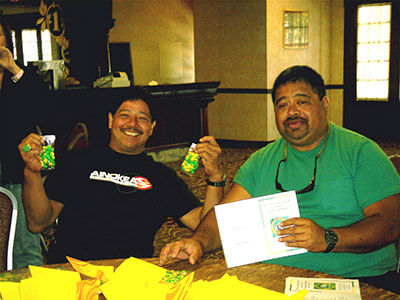 Paul and Bucky lend a hand. Paul put bags of printed M&Ms and music CDs in favor boxes and Bucky folded programs.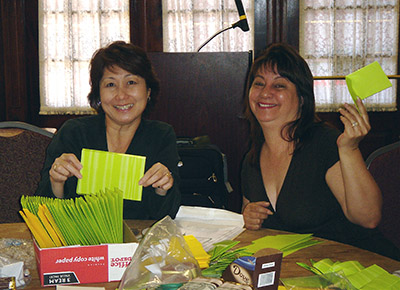 Wendy and Aldene work the assembly line.
There were pre-reunion activities to kick-start the fun. First stop, the Tournament of Kings show at the Excalibur Hotel. All aboard!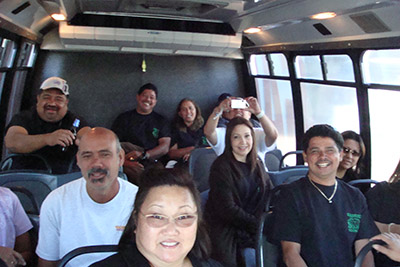 The shuttle bus that took classmates to the hotel was noisier than a flock of mynah birds!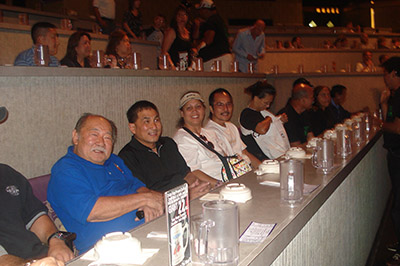 The chicken dinner at Tournament of Kings was finger-lickin' good. Why? Classmates had to eat with their hands! Go, go, geev 'um, king from Norway!
Of course, every Bulldog wanted to get lucky and many of them did!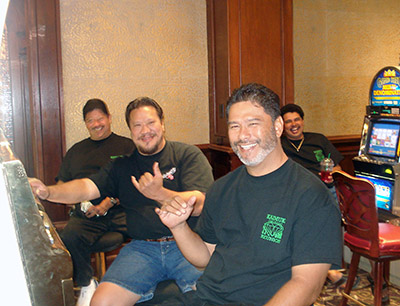 Paul, Keith, Joe and Buzzy at the slot machines.
Shopping was also a favorite pastime!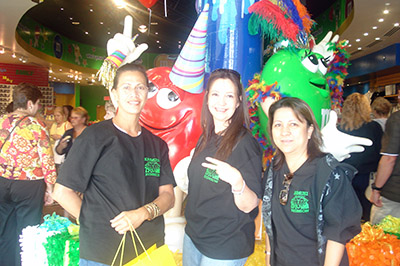 Sweets for the sweethearts – Georgette, Teresa and Dell at the M&Ms Store. Check out their cool class t-shirts!
Three Dog Night was in town the week of the reunion. A few classmates took in the concert and were invited to meet the band backstage. Joy to the world!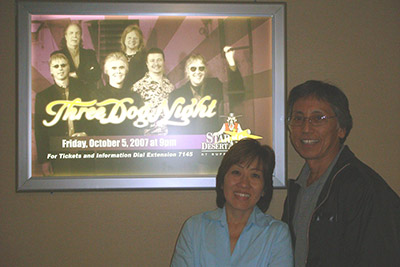 Laura and Walter
On reunion night, everyone was greeted at the door with a hug and Mardi Gras beads in green and gold. Let the good times roll!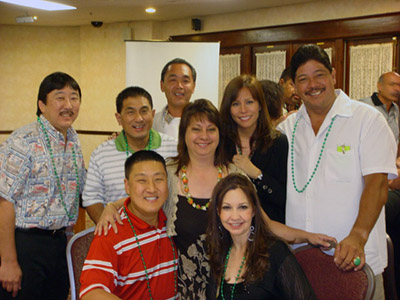 Tyler, Keith, John, Glenn, Aldene, Teresa, Carol, and Paul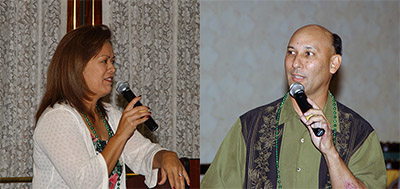 Pam and Leonard were naturals as Masters of Ceremony. Pam sang the invocation in Hawaiian. It was beautiful!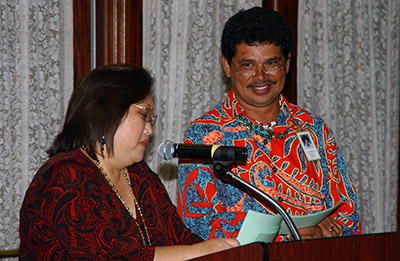 Nancy and Buzzy gave a delightful speech that took us back to a simpler time when kids got dirty lickins for acting up in school and moms set their hair with Orange Exchange juice cans as curlers.
After the delicious prime rib meal, the games began!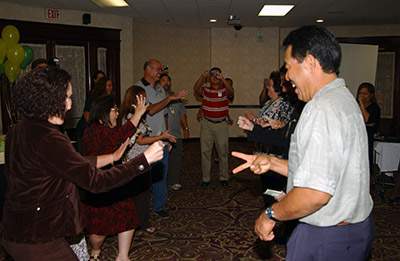 Marie and Dean jan ken po their way to the motherlode of cash.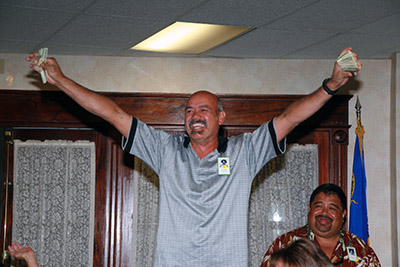 Daniel, basketball superstar, is still at the top of his game.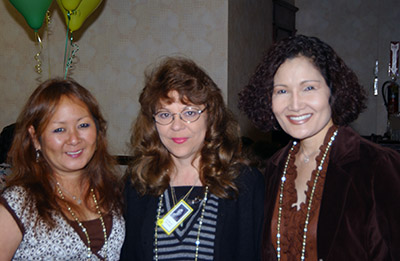 Lena, Kauilani and Marie look as young as they did 30 years ago. Timeless!
Say cheese! Classmates had the opportunity to take professional photos with their elementary and intermediate school buddies. Here's a shot of the kids from Jarrett Intermediate,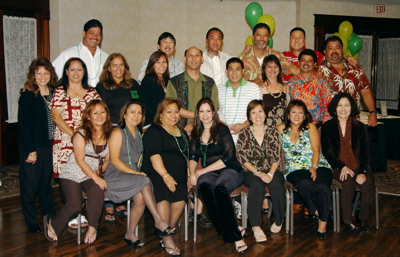 Washington Intermediate,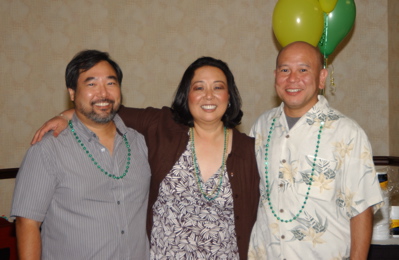 and Kaimuki Intermediate.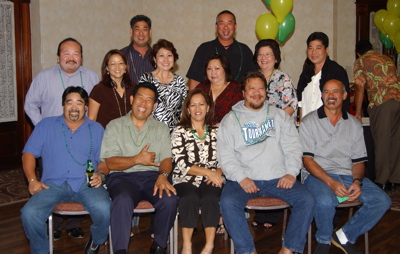 There was a raffle drawing and door prizes. Buzzy danced the hula and received a rousing hana hou.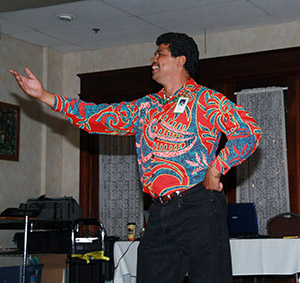 View the slideshow that was played. (the file is large; give it some time to appear)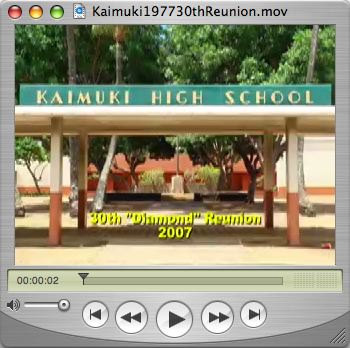 The evening at the Social Club ended all too soon.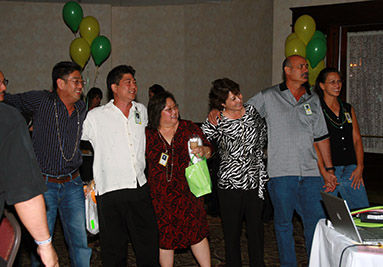 Classmates held each other close, sang and swayed to Kaimuki's alma mater
The alma mater was played on a slideshow that featured the beautiful artwork of our talented classmate Jocelyn Cheng! Music teacher, Kealani Kekoa, played the accompaniment.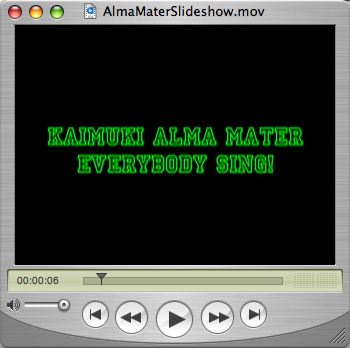 Israel Kamakawiwoole's version of "Hawaii Aloha" closed the curtains on the reunion.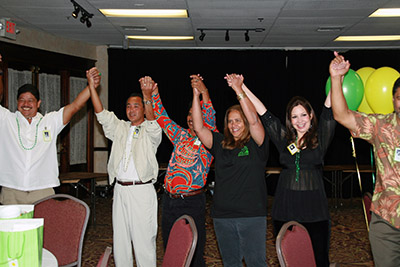 `Oli ê! `Oli ê! The evening couldn't have played out more perfectly.
The Bulldogs weren't ready to end the evening just yet! They packed up and moved over to Main Street Hotel's 777 Brewery, where they rearranged the restaurant's furniture so that they could be one and make the moment last.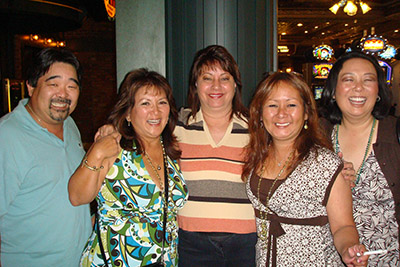 Kurt, Raena, Aldene, Lena, and Arlene enjoy good times together.
The Kaimuki class of '77 reunion in Las Vegas was an event that will stay with classmates for years to come. Many thanks to those who trekked the miles to attend. Deepest gratitude to Bulldogs who gave generously of their time and resources. The reunion would not have been the success that it was without their presence and support.
Stay tuned right here for more information regarding the 50th Birthday Bash reunion in Las Vegas for 1977 classmates from all Hawaii schools, happening in September 2009! You won't want to miss it!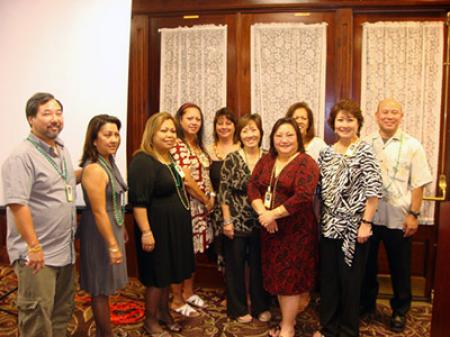 Thank you for the fond memories. Kaimuki no ka oi! Your reunion committee: Baron, Dell, Mingy, Donna, Aldene, Laura, Nancy, Pam, Wendy and Eddie
Photo credits: Teresa, Baron, John, Donna, Buzzy, Warren and Wendy